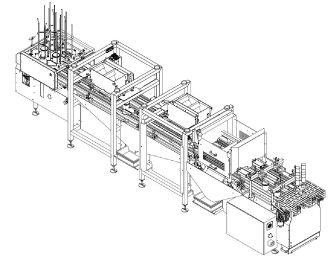 PACKAGING LINE - CHAIN CONVEYOR BELT
Induser's packaging chain conveyors are known for their speed and versatility.
They include a series of accessories to dispense, fill, close and cap a variety of packaging formats.
Based on the production capacity, the chain conveyor belt can be single or double. Its functionality allows fast format change by replacing the denester for other packaging specifications.
DOWNLOAD DATASHEET

MULTI-FORMAT
Cardboard or plastic trays, buckets, lids, clamshells. We adapt the packaging machine to the variety of containers you use.

MULTIFUNCTION
Denests, fills and packs in a fully automated manner.

ADAPTABILITY
They are easily integrated into our range of weighers and end-of-line machinery. This is how we adapt the entire production line.

HIGH PRECISION
We distribute the product efficiently to package with the specifications of the weighers.

VIBRATION FILLING
SYSTEM
Ensuring that the product is loaded safely and efficiently.

EASY CLEANING
AND MAINTENANCE
Our machines are made of stainless steel and materials with the highest performance. This facilitates their regular cleaning and with it, their durability and profitability.