At INDUSER, the manufacturing of packaging lines follows a process. What in 2004 began a workshop, today evolves to become a factory. In this article, the shared vision of one of the largest teams in the company: the welders.
INTERVIEWS | April 26th, 2023.
By Tere Góngora Basterra.
At INDUSER, the manufacturing of packaging lines continues a process. What in 2004 began as a small workshop, today evolves to become a factory. On one side of the factory pieces of stainless steel are received; on the other side, we load quality machinery.

It is in this process that one of the largest teams in the company today, intervenes. A group of people who share a common passion: welding. There are five professionals who have dedicated hours of training and experience to achieve perfection in the work of the welder: Alexandru State, Francisco Zapata, Gerardo Del Río, Miguel Ángel García and Ricardo Sesto. Since we believe that there are no better brand ambassadors than the employees of a company, in this interview we share the vision that most of them have about their job, their role within the company, and their opinion about the future of welding.
Tere: How has the team of welders been formed?
Francisco: The first to arrive was Alexandru. Soon joined Gerardo, he was with us for a while and then he left. My incorporation came in 2008 on the recommendation of a colleague. Then, our facilities were not even half of what they are now. Years later Miguel Ángel arrived and that was when Gerardo rejoined the team. Finally, the fifth on board was Ricardo.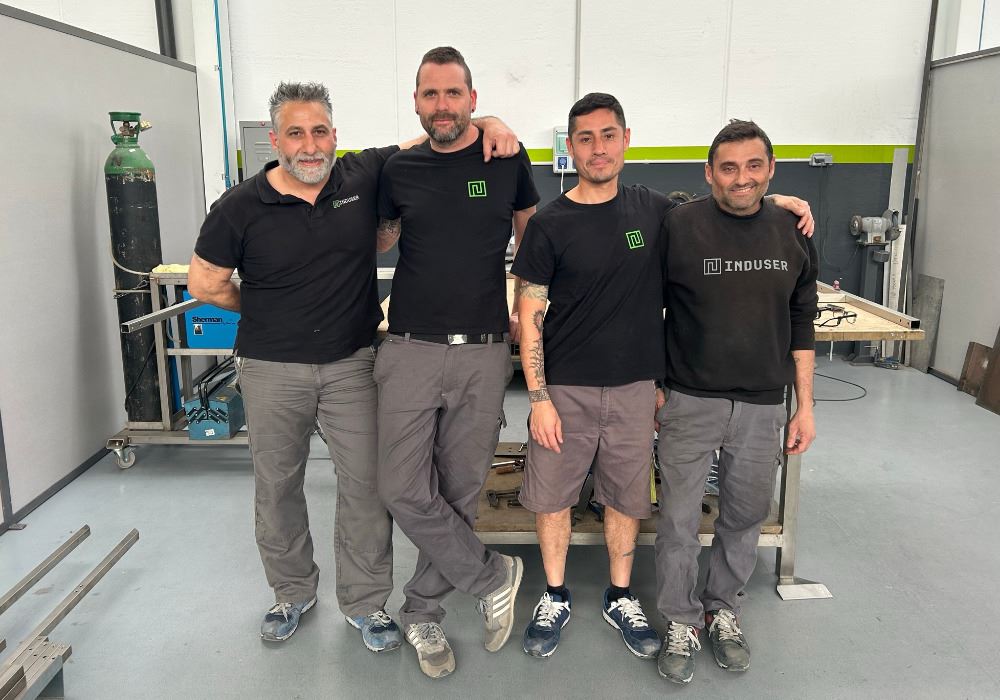 In the picture, most of the welders (from left to right): Ricardo Sesto, Miguel Ángel García, Gerardo Del Río y Francisco Zapata.

Tere: How were your beginnings at INDUSER, Gerardo?
Gerardo: I joined on the recommendation of a colleague who then he was responsible for the Lathe. When I started at INDUSER, I was not dedicated to welding, in principle I entered for the assembly of machinery. The circunstances were the ones that brought me closer to welding and particularly to that process that we use in INDUSER that is known as TIG (Tungsten inert gas, for its acronym in English). One aspect that surprised me when I started was noticing that laser cut parts were requested, that is, there were already some processes in the manufacture of the lines that were not manual.
Tere: And for you, Miguel Ángel… how were your beginnings?
Miguel Ángel: I joined in 2014. By then INDUSER had already been in the market for 10 years and was growing by leaps and bounds. I heard about the company and I came on my own. However, I was lucky that some of the people who were already here, they knew my work, so I left my curriculum and soon after, I began to be part of it.
Tere: And you Ricardo?
Ricardo: I am the most recent addition. I joined to the team a couple of years ago because I entered to cover a medical leave. Then our colleague Zapata was indisposed and at INDUSER they needed someone to came in to support the welding work.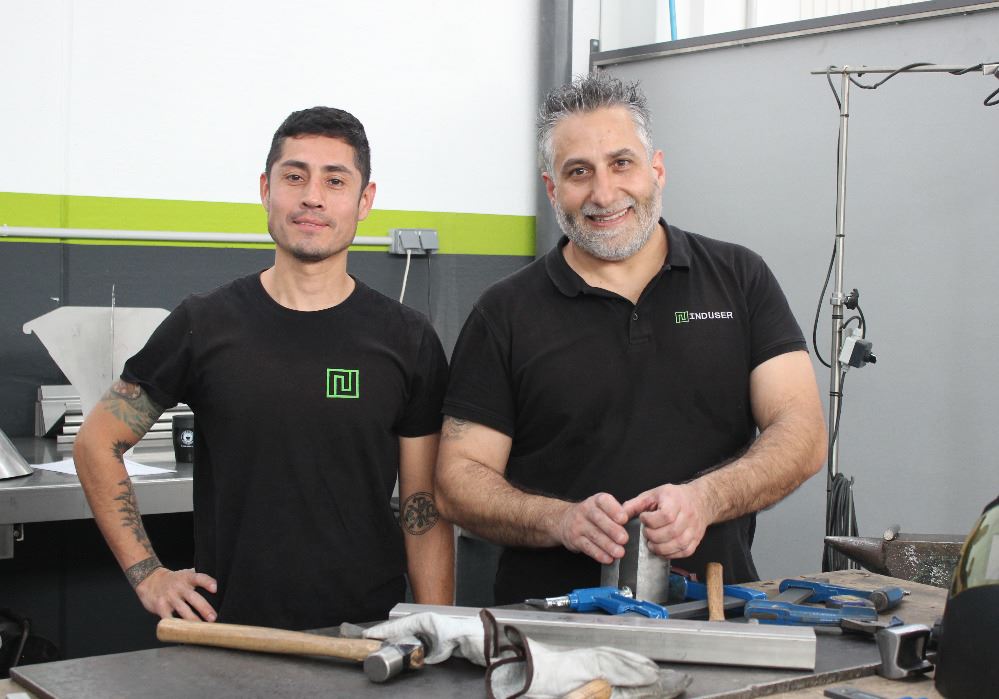 In the picture, Gerardo Del Río y Ricardo Sesto. Both from Argentine, represent quite well the multicultural side of our team.
Tere: And here we are! I would like us to speak a bit more about your job. What does it take to be a good professional in welding?
Miguel Ángel: Everything is wanting to learn.
Gerardo: Earn and hours of experience. With the different processes: wire, electrode, TIG.
Ricardo Sesto: Theory is also needed. It goes from the hand of practice to understand well the processes, the materials. For example, I learned from a very young age because my father taught me, then in 1999 he gave an opportunity to weld stainless steel tanks…it's been years of theory and practice... This is the only way to evolve properly.
Tere: Your team, it's a party of five! How do you usually work with each other?
Francisco: Well, welding is a very individual job, mainly for security reasons. We work coordinated, when a project arrives, they assign it to us.
Miguel Ángel: We have all made the same pieces that makes that when one has had a problem, we approach the other to tell him to be careful, we share about the problem we have had to avoid the recurrence of mistakes.
Francisco: We also tend to be attentive and ready when someone new joins the company.
Gerardo: And well, the collaboration also goes with the personality of each one, what It's important is to ask. Always ask. There are those who seek help from colleagues of others departments, there are those who approach the partner next door.
Ricardo: I see the team very consolidated. I have received advice when I needed it and even though we have different projects, we are leaning on what we can.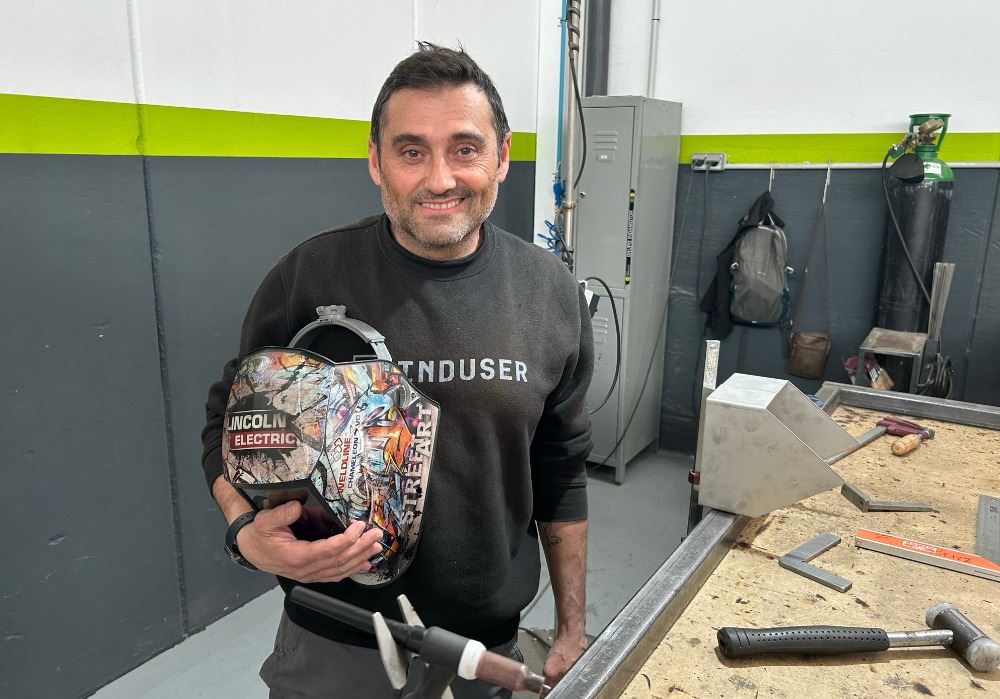 En la imagen, el soldador Francisco Zapata. Profesional en el oficio de soldar que es parte del equipo desde 2008.

Tere: What do you like least about welding?
Francisco: In my case, perhaps, to repass the pieces. I like it less because we say that it is the "dirty work" of welding.
Miguel Ángel: For me, perhaps the worst thing is the heat of the summer. For security reasons we work with long sleeves to protect ourselves, that supposes more heat than normal, working in those conditions is part of the welding profession, and that is something that I have decided to be.
Tere: Do you encourage the new generations to train in welding trade?
Miguel Ángel: I first encourage my children to Study, to prepare for the future. If later, they decide to weld becaan opportunity comes along, I would encourage them... but first, to study and train to have chances, to open up new opportunities.

Francisco: Like all jobs, welding is a very sacrificed job, you are exposed. You have to protect yourself, it entails a certain danger.

In the picture, Ricardo Sesto welding with the process known as "TIG".
Tere: That leads me to talk about safety, regarding occupational risk prevention, how do you protect yourself?
Gerardo: It depends on the process. In the welding processes that have a lot of spark, you have to be well covered, the skin has to be protected and always, the helmet to protect your sight. For me welding is a way of living, that's why I do encourage young people, especially when we talk the process we use the most here. The TIG has more professional output, it is a clean process, it is not so sacrificed.
Francisco: I stand up for my job because as a society, we are losing it and it is quite needed in the industry. Other current jobs are more comfortable, it is normal for young people to want to be well dressed, in air conditioning facilities... it is normal that they do not want to be exposed to the heat and risk. If the salary difference is not significant, comfort prevails. But this job is grateful and I want to think that the lack of demand will make it quote better.
Tere: For you, Ricardo -you are the newest of the team - what has been the most significant change you have seen in this time?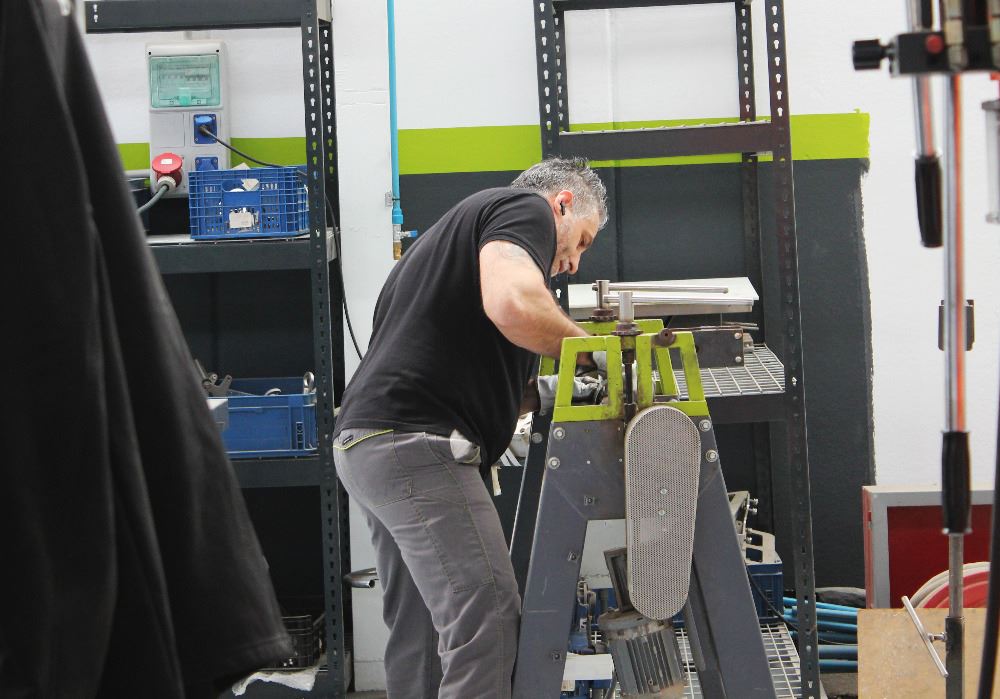 Ricardo: I agree with my colleagues. The fact that at INDUSER we weld with TIG. I came from another workshop, welding almost everything with an electrode. That has been the big change for me, personally. At a company level, the most significant change I have experienced has been the expansion of the facilities and the order in the manufacturing processes.
Miguel Ángel: For me the most significant change has been cleanliness and spaciousness. Working conditions also count. Each one of us has an adapted space, not only with the tools that we need to work, but also with my personal belongings, it's like a space for my own. That also counts to feel good and happy in a job.
Gerardo: For me the most significant change has been to see the change of materials. We went from iron to stainless steel. That speaks about the quality of the machinery we manufacture. There is no comparison between painted machine to a stainless steel machine. The stainless steel enters you through the eyes, its a synonimus for safety and long-term durability.
Francisco: For me the most significant change is the constancy in improving the organization. Here they give you your plan, your project. From the beginning to the end of the manufacturing process follows a line. There is a certain order that has been progressively improving. We are continuously with the aim of taking care of the space.
Tere: What makes INDUSER a good place to work as a welder?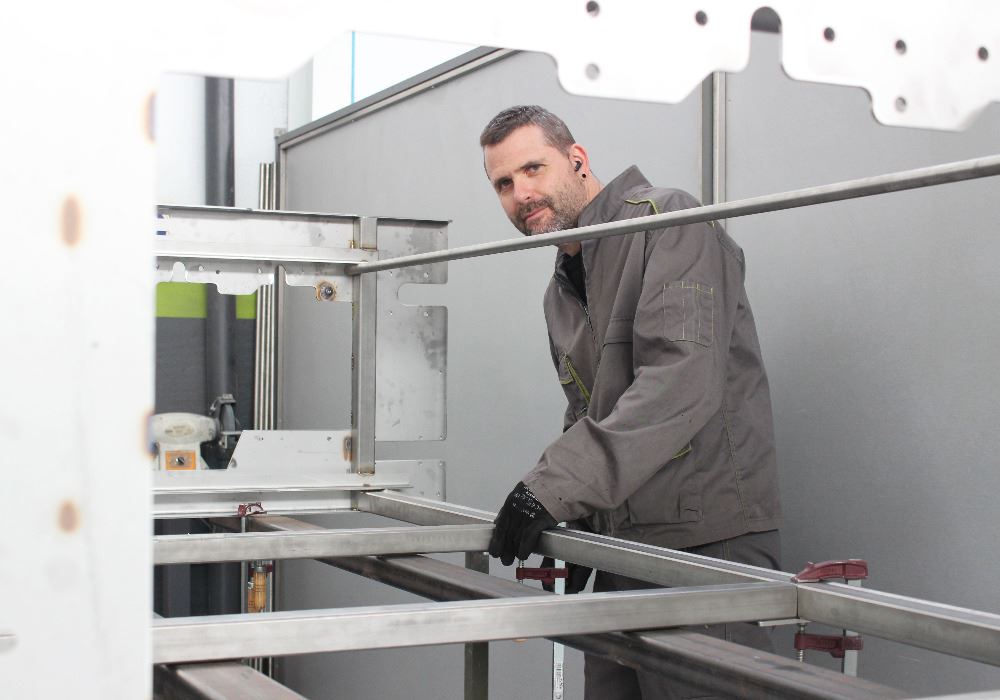 En the picture, Miguel Ángel García. Miguel is a member of our team since 2014.

Miguel Ángel: My opinion is that I feel good here. That's all. Personally I put things on the scale and it compensates me. Maybe that makes INDUSER a good place to work. That one has freedom to simply do their jobs. I know what my responsabilities are, I need to do them, the best way I know.

Gerardo: From welder to welder, I would say: "Join us. You are going to grow a lot in the TIG welding process". Look, out of INDUSER the world of welding is a bit tougher, the conditions are not as good. Within what the job of welding entails, this is a place safe, its comfortable, spacious and clean.

Ricardo: We grow to become one factory, we are leaving behind that small workshop and being part of this is interesting. It is true that we still have a long way to go, but we are working on it and at least we have the conditions to achieve it.
Tere: Well, thank you all very much for this conversation time in which we have come a little closer to understanding how welding is worked and how the gear of the people of our team is produced. What does it take to be a good professional in any job? What Alexandru, Francisco, Gerardo, Miguel Ángel and Ricardo have… sums up well the culture that we try to promote at INDUSER: Eager to learn, theory, practicals and hours... many hours of experience in an environment that we must take care to keep it clean, tidy and to provide the optimal conditions for people to do, with professionalism, their part the best they can.

---
DISCOVER MORE ABOUT INDUSER'S TEAM
The factory: An interview with Daniel Navarro.
The team that automates the packaging process.
ISO 14001 and 9001: Quality certificacions.